Chia Tai's "Century Star" Watermelon Earns Prestigious AAS Regional Winner Award in America
Chia Tai's "Century Star" Watermelon Earns Prestigious AAS Regional Winner Award in America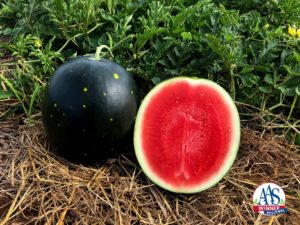 Bangkok, 12 July 2021 – Chia Tai Company Limited, Thailand's leading innovative agricultural company, takes great pride in not only delivering high-quality products to Thai farmers for over a century, but also gaining global trust and reputation. Most recently, Chia Tai's "Century Star" watermelon has won the internationally renowned All-America Selections® Regional Winner Award.
Chia Tai has amassed wealth of plant breeding know-how over the course of a century. In this regard, Century Star Watermelon is one of the results of meticulous research and development aimed at meeting market demands and adding value to the product, while also commemorating Chia Tai's Centennial. This new seedless watermelon has an attractive dark green rind with yellow spots that resembles the moon and stars in the sky at night, making it a unique product in the market.
Apart from the vivid yellow spots that set this award-winning watermelon distinct from the other varieties, Century Star Watermelon has several additional advantages. It is easy to grow, robust, disease-resistant, and adaptable to a range of planting situations. In addition, this watermelon provides an excellent yield of 3–5 kilograms on an average. Farmers are rewarded with a beautiful round fruit, sweet and crispy interior flesh from this cutting-edge seedless cultivar. All these traits make Century Star Watermelon a truly deserving award winning variety from All – America Selections (AAS). All-America Selections® was founded in 1932 and continues as the oldest independent testing organization in North America. Every year, new, never-before-sold in North America varieties are trialed and professional horticulturists determine which varieties will be deemed winners based on their garden performance.
Mr. Manas Chiaravanond, Chief Executive Officer of Chia Tai Company Limited, said, "The fact that our Century Star Watermelon won the AAS Regional Winner Award this year is certainly a source of great pride for all of us at Chia Tai. Century Star Watermelon is like a beautiful star that shines brightly and makes all of us in Chia Tai Family proud, especially as we start the next century of our business operations. The AAS award is testament to Chia Tai's strong commitment to fostering agricultural innovations and demonstrates our ongoing efforts to improve ourselves over the past century. We have a great team of high-caliber professionals and breeders, and we are committed to providing the finest to our fellow farmers and customers in order to increase food security and enhance people's quality of life on a sustainable basis."
Mr. Supat Mekiyanon, Assistant Vice President of Research & Development, Chia Tai Company Limited, added, "Chia Tai's team of watermelon breeders recognizes that yellow spots on the rind of heirloom watermelon varieties are one of the distinguishing qualities that local farmers generally believe will bring them good luck. As a result, any watermelons with yellow spots are rare and expensive on the market. Realizing this, the breeder team chose to capitalize on these distinct traits by improving the quality and developing it as Century Star Watermelon, which is superior to other heirloom varieties. This variety of watermelon seeds not only offer greater quality, but also are easy to grow, provide great fruits that are delectable and seedless while meeting current market demands. Century Star Watermelon seeds were trialed by professional horticulturists in the AAS network across America. Based on its performance, our Century Star Watermelon was declared Regional winner and won the AAS Award."
Chia Tai's Century Star Watermelon seeds will initially be sold in America. The seeds will be commercially available soon for the Thai market. Interested persons can learn more about news and updates on Facebook:   www.facebook.com/chiataiseed , website: www.chiataigroup.com; and Line: @CHIATAISEED
About Chia Tai
Chia Tai Company Limited was established in 1921. It is now one of Asia's leading agricultural companies with its business covering the entire chain of the agricultural industry, starting from quality seeds, fertilizers, plant protection, to cultivation technology and delivery of safe and quality products.
With our relentless determination to develop products and services, Chia Tai was among the first companies in Thailand to develop hybrid seeds. It has high potential to develop hybrids to create food security for farmers and confidence among consumers. Chia Tai has up to 10 R&D stations in Thailand and other countries and seven subsidiaries across Asia and the US with over 1,300 employees.
Chia Tai's principle in doing business is firmly based on business ethics and integrity, with its goal to develop products and services that deliver agricultural innovations for a better and sustainable quality of life for people across the region.
For more information and media enquiries, please contact:
Corporate Communications   
Chia Tai Co., Ltd.  
Anima Tatsajun
Tel. 02-491-7740
Email: Anima.ta@chiataigroup.com
Sunisa Thawornwongsakul
Tel. 02 491 7865
Email: Sunisa.th@chiataigroup.com