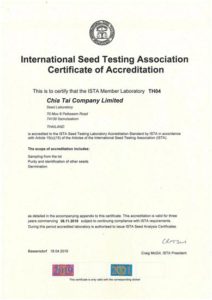 ISTA certified quality control standards

The International Seed Testing Association (ISTA) is an international organization that sets strict laboratory standards and methods for seed quality testing, which is accepted in the seed industry worldwide. ISTA standards are comparable to that of ISO, HACCP, GMP and others, which enforce strict seed quality controls regarding germination rate, vigor, genetic purity and seed contamination.

Chia Tai Co., Ltd. is the first Thai seed manufacturer in Thailand that obtained ISTA accreditation, for the purpose of delivering quality seeds with high yields, thereby helping farmers attain a good income. All equipment in Chia Tai's Quality Assurance (QA) laboratory is routinely calibrated and measured to ensure compliance with ISTA standards.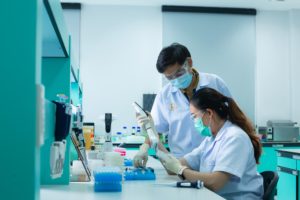 Biotechnology - Innovative agriculture for better seed quality

Chia Tai's R&D Team is comprised of breeders and scientists, who use a wide variety of biotechnology techniques, to support the selection of elite parent lines used in F1 hybrid seed production. To create new F1 hybrids in a shorter time and with precision, Chia Tai continues to develop and use molecular markers, pathogen artificial inoculation and tissue culture methods. High quality plant breeding is paramount for the development of new varieties that are well adapted and meet product targets in terms of traits. Thought must be given to the strength of a variety in a given climate, tolerance to disease pressures, high yield, quality and great taste of produce, as well as consideration of chemical residues in the environment, to get top quality seeds and safe produce to the market.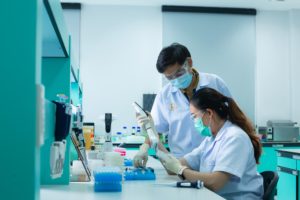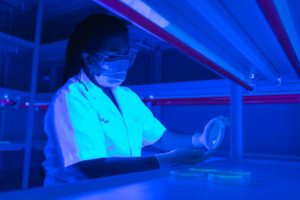 Chia Tai's Pathology Laboratory serves two key functions for the development of new varieties:

1. Development and use of artificial inoculation protocols – This allows the breeder to select parent lines and F1 hybrids that have
natural resistance to plant diseases
2. Diagnostic laboratory – This allows the Pathologist to identify the specific type of plant disease affecting vegetables, which often results in low marketable yields and fruit quality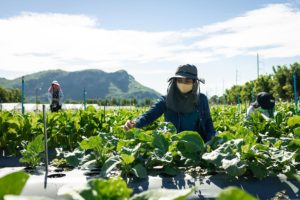 R&D stations for the development of new vegetable varieties

Currently, Chia Tai has research and development (R&D) stations in several regions, to research and test plant varieties in areas with suitable climatic conditions for different crops:
1. Kanchanaburi R&D Station consists of breeders and scientists at the main laboratory, test plots, and Chia Tai's product store, which stocks fresh, top-quality products, including melons, mini-ball pumpkins, and tomatoes.
2. Chiang Mai R&D Station is Chia Tai's first established R&D station. The main crops bred here are peppers, tomatoes, eggplants and various melon plants. We can see many varieties of tomato plots here.
3. Suphanburi station
Furthermore, we also have R&D stations in China to test the local brassica varieties in the cooler regions of southern China:
4. Kunming, Yunnan station
5. Nanning, Guanxi station